The Classic City has always been a special place to Trent Nesbit. Sure, it's where he grew up, but Trent thinks there's more to it than that.
"I think it's the best town in the world with sports, music… everything," he says.
Still, he was worried about sticking around Athens to attend the University of Georgia.
"Is this going to be too comfortable for me?" he wondered. "Is there something that's going to push me?"
It didn't take long for Trent, an economics major, to find growth opportunities. One of those was working as a student video assistant for the Georgia Bulldogs football team, first shooting practice film and now creating promo videos for social media.
Since high school, Trent has tinkered with creating and editing short web videos, particularly football fan hype videos. It started with original videos he shot and edited for the Clarke Central High School football team. Next, he created his own fan videos for the Georgia Bulldogs, which caught the attention of the football staff. Trent landed a job providing practice video for the special teams unit (kickers, punters, long snappers) to help with their mechanics.
He quickly learned that coaches and staff had high expectations, which meant balancing school and work. He says that the team staff consistently teach time management skills to student workers, just like they do for athletes.
"They each have an incredible culture within the building, a culture of success that consistently bleeds down from year to year." He says, "It's opened my eyes to what works at extraordinarily successful organizations and has gotten me interested in management."
Trent Nesbit
Video Assistant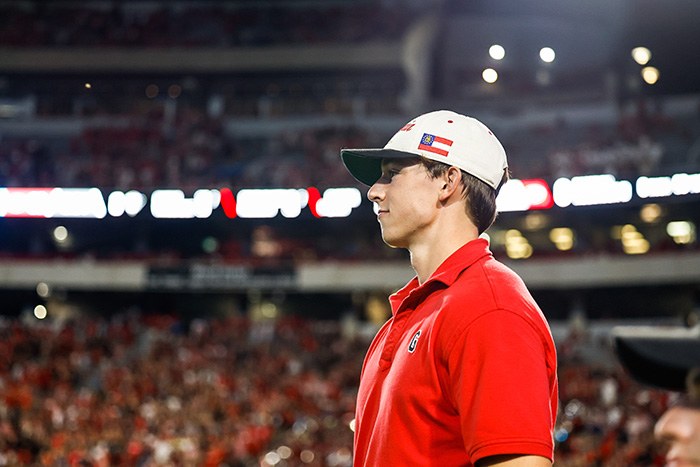 "Georgia football treats its students very well," he says. "They take care of the people on the lowest rung as well as the highest."
His efforts have paid off. He flew out to attend last year's national championship game in Los Angeles and joined in the on-the-field festivities after the win.
This year, Trent is working with the creative team, shooting clips and editing social media hype videos to get fans (and recruits) excited about the Bulldogs. It's the kind of projects he worked on in his free time as a fan. Now, his work has the potential to reach millions.
"It's something I've always wanted to do since I first got to Georgia," he says.
Trent is still figuring out what comes next after he graduates in the spring. But to be fair, he's spent plenty of time focused on making the most of his UGA experience.
He is heavily involved in the UGA Wesley Foundation, a Christian campus ministry, where he has been a small group leader and traveled on mission trips, including a recent trip to Jamaica over spring break.
Over the summer, Trent traveled with other sports management students to Europe to learn from executives and staff at the famed soccer club Real Madrid. There, Trent got to have conversations about social media strategy—Real Madrid boasts the highest number of followers of any club in the world—and management structure.
From his observations, the professional club is run surprisingly similarly to Georgia. His exposure to both organizations has him thinking a lot about leadership.
"They each have an incredible culture within the building, a culture of success that consistently bleeds down from year to year." He says, "It's opened my eyes to what works at extraordinarily successful organizations and has gotten me interested in management."